1,000 Permissions Granted
To see full preview and purchase information *for the PRINT version* click button below
Retail: $23.96:
OR for *eBook* version
Retail: $3.99:
Whimsical, fun, silly, thoughtful, intuitive, insightful, and all manner of other permissions are granted in this new book from author Kara L.C. Jones. In fact, 1,000 Permissions Granted is the most creative collection of permission slips you'll find on the bookshelves today!
Kara L.C. Jones, Grief Coach and heARTist founder of MotherHenna.com, published this radical statement of inner peace as a companion to her continued practice of creative living in the hope it will inspire you in your own self-care. When asked about the book Coach Kara shared, "Maybe 98% of the people who connect with me seeking help are actually stuck at the point of a permission. They are not giving themselves permission to grieve, or to be happy again, or to risk trying something new, or to just stop and be still. 1,000 Permissions Granted is a workbook of sorts for you to learn how to stop stopping yourself!" The book is available via Lulu.com - click here to see.
Review copies are available for any radio show host or journalist interested in featuring Kara on their show or in their publication.
Ang Westerman, reader and reviewer of the book, says 1,000 Permissions Granted is "a wondrous gift this author has given to the world. You have permission.....permission to love, live and laugh…This book makes you look at your life in a different perspective, it helps you allow yourself the permission to do what you need to do, releasing guilt and instead nurturing yourself. It's a book of hope and healing, a book of laughter. It's all that! Get it. You will not regret it."

Click here for PDF of the press release.
Click here to download 40-page sample of the book (PDF).
Click here to listen to radio show featuring this book (MP3).
eBook version of 1,000 Permission is also available, by clicking here.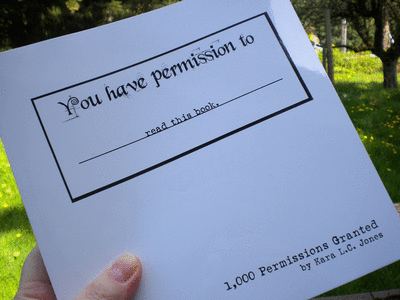 The You Have Permission Workshop
We also have a home workshop based on the practice of permission, using this book as core element. Taking the workshop gives you an eBook copy of the book as part of the content. For full home workshop information, please click here.